In order to create a new front panel, you have to define the material thickness. With this choice you also determine the complete set of tools which are available for processing the front panel, more or less along the lines of: "The thicker the material, the more stable the tool has to be."
As a result, your design flexibility using object properties is subject to certain limitations as the thickness of the material increases. Whereas up to a thickness of 4 mm for example, a corner radius of 0 mm can be cut out with a 1 mm milling cutter (left picture), when the thickness is 10 mm, only the 3 mm milling cutter (right picture) is available.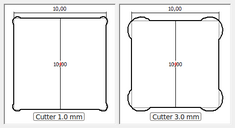 You can find a description of the procedure that may be required for a change in material thickness here.