FRONT PANEL DESIGNER
Our free, specialized software for designing front panels, enclosures, and milled parts.
Front Panel Designer 6.2.1
Windows 10/8/7/Vista/XP 32bit
Other Operating System / Previous Version
Design and order customized front panels without any prior knowledge or experience. Get started today!
FEATURES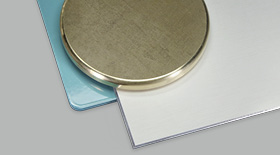 Basic Settings
Front panels with different basic shapes can be created in Front Panel Designer. Dimensions can be entered in mm or inches and in rack units and horizontal pitch units for 19" systems. Alongside other features, you can choose the material, colors, and edge machining.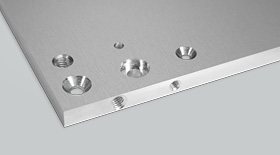 Drill holes, Countersinks, Threads
Through holes and blind holes can be made in the front panel. Countersinks and threads can be applied to these holes, according to set standards or customized to your needs.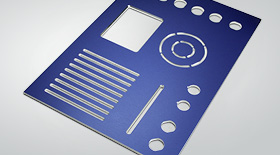 Cut-Outs
Rectangular, trapezoidal, and triangular cut-outs as well as elongate holes, D-holes and curved slots are available in Front Panel Designer. The edges of these elements can be machined with bevels or radii.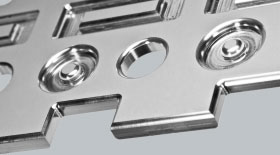 Cavities
Position circular or rectangular cavities on the front or back of your panel. Cavities with a raised inner surface and edge machining are also possible.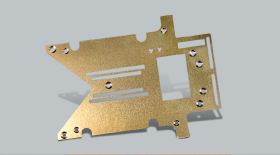 DXF Import
Front Panel Designer allows the outer and inner contours of the front panel to be imported as a DXF file, i.e., these can be designed freely. Inner contours can also be designed as cavities.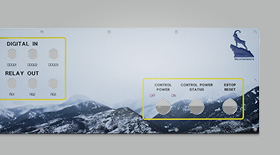 Digital Printing
Print files can be imported directly into your front panel design. Supported file formats are: PDF, PNG, TIFF, JPG, BMP, and various print options can be set in the software. We use our own patented UV printing process to ensure a durable, high-quality print.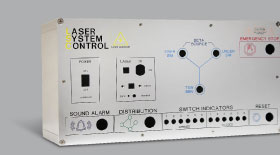 Text Engraving and Other Engraving Elements
Basic geometric shapes and a large number of fonts are available. In addition to the RAL colors that we keep in stock, we would be happy to procure any color that you need. All engraving elements can also be printed as an alternative to engraving.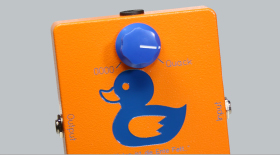 HPGL Engraving
Using the HPGL import feature, even complex objects such as graphics, alternative fonts, or your company logo can be engraved onto your front panel.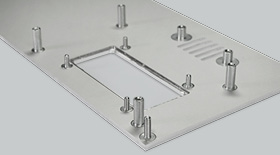 Threaded Studs and Standoffs
Threaded studs and standoffs can be selected in Front Panel Designer as fastening elements. Standard and heavy-duty versions are available.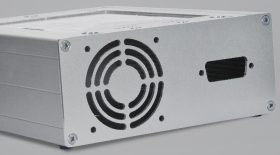 Macro Objects
Front Panel Designer contains an extentsive library of macro elements. This includes the right assembly sections for many common plugs, fans, switches and other components.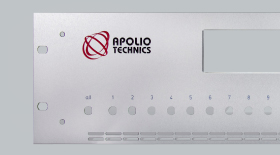 System Holes for Standard 19" Front Panels
Add the right drill holes for 19" racks with a single click. System holes for (partial) front panels for systems from the companies Schroff and Fischer are available. When the drill holes are made, the dimensions of the front panel can be adjusted automatically to 19" horizontal pitch units.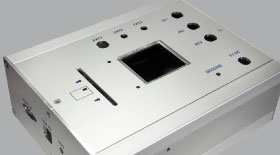 Enclosures
The enclosure generation feature included in the software allows you to create all sections of a complete enclosure in a single step. You can design the sections as you wish, and any accessories needed can be added during checkout.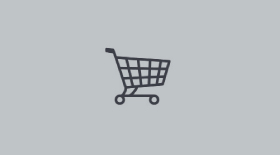 Price Calculation and Order
You can see a detailed itemization of your panel's cost in Front Panel Designer at any time. You can also request a non-binding quote and place an order directly from the software.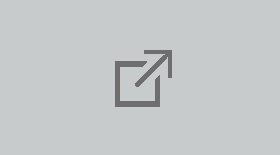 Export to Other File Formats
Export your front panel design as a DXF, STEP, SVG or PDF file.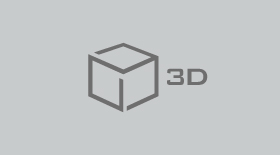 3D View
The 3D view function makes it easier to spot errors and provides a practical first look at your panel.
OTHER OPTIONS WITH FRONT PANEL DESIGNER